Most kitchen remodels cover the same basics. New flooring and countertops are usually at the top of the list, but now, some new ideas are trending that can really transform your kitchen.
Not every homeowner wants to splurge, just as not everyone has a modest budget. What matters to you is probably different from your neighbors.
With that in mind, we gathered five remodeling ideas that can make a difference in your kitchen, regardless of your style or budget.
The Kitchen Island has Untapped Storage Potential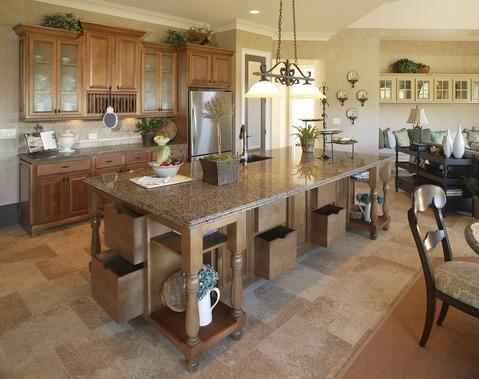 A center island has become the mainstay of kitchen remodeling jobs. Even in a small kitchen, a proportionately small island gives you more counter space and seating for casual meals. What's trending now is user-friendly island storage.
Typical islands have cabinets, not unlike the base cabinets, that dominate most kitchens. Yet, drawers are easier to use because they allow you to pull all of the contents into view; no need to kneel on the floor to find what you're looking for.
Other island storage upgrades include built-in wine racks, shelves for cookbooks, and tall, narrow drawers for storing cookie sheets. If your home includes a 4-legged family member, what about a niche at one end for his food and water bowls?
A New Pantry is More than Functional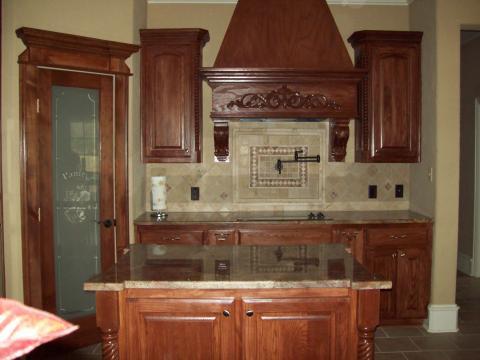 In the same storage vein, pantries aren't necessarily a luxury. They give you plenty of space for food and bulky kitchen items such as small appliances that you don't use every day.
Not every home has an extra closet to be converted into a pantry, but you might not need one. Reclaim a corner and frame it out into a pantry, and you've taken back space that might otherwise only be used for a tall plant or some other decorative item.
Use a glass-front door and the room gains architectural appeal along with more storage.
Pot Racks Save Valuable Cabinet Space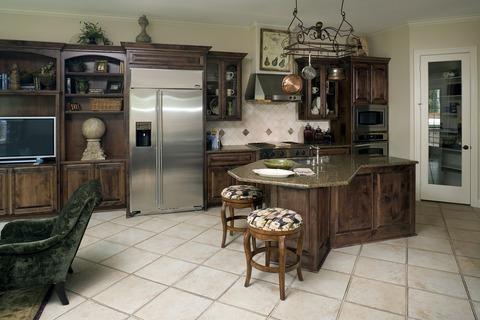 A pot rack over an island seems like a simple thing to consider, but it's a lot more than pretty. These racks keep your cookware within easy reach and some have built-in lighting that helps illuminate the kitchen. This is an inexpensive upgrade that can transform the way you cook.
With cookware overhead, your base cabinets have a lighter load. All of a sudden, one of the most frustrating things about base cabinets - stacking pots and pans inside - is a thing of the past.
One Caveat: Your cookware is on display, so it needs to stay shiny.
Laminate Countertops are Back in the Running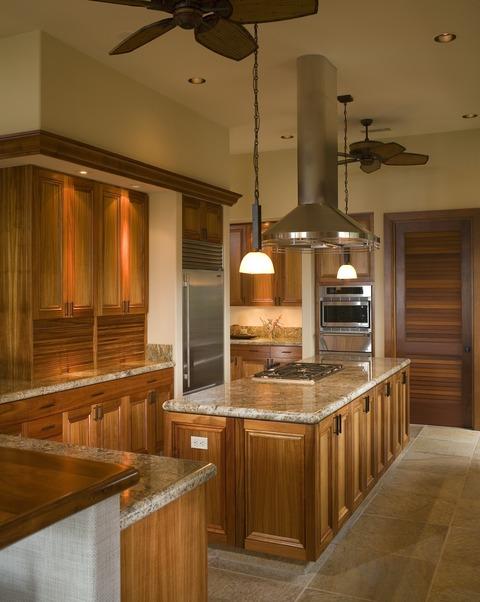 Remember when ditching the old laminate countertops was a milestone for homeowners? That's not the case anymore; not with the new laminate options available.
The pluses of laminate have always included ease of cleaning and a lower price point than other countertop options. However, new laminates are starting to bring their A-game.
There are low-VOC materials that are kinder to the environment, better seaming methods for a smoother appearance, and realistic patterns and rounded edges that are virtually indistinguishable from the stone once installed.
Paint Gives Cupboards A Whole New Look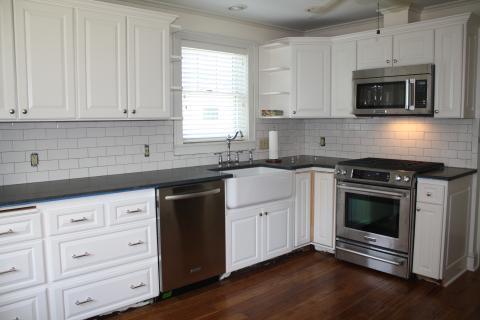 New cupboards claim the bulk of most kitchen renovation budgets. Low-end, stock cabinets cost several thousand dollars, with higher-quality models running into the tens of thousands. But with a little paint, your cabinets can look brand new.
Painting cabinets is more complicated than buying a can of latex at the big box store and brushing on a new color. Wood cabinets are nearly always finished with an oil-based urethane, so interior paint won't stick unless you prep the surface first.
To get the best results, you' should hire a pro to paint them for you using a sprayer, or use the right tools and supplies for the job.
Kitchens are always at the tops of the list for home remodeling projects. The industry churns with new ways to make this busy room more efficient and attractive.
You can stay current with a few new touches or take on a comprehensive remodeling project that fully transforms the room. Incorporate some or all the latest trends and make your kitchen a room you can be proud of.
If a kitchen remodel is in your future, don't forget to request free estimates from local pros.