Whether you're a professional chef or an aspiring one whose culinary masterpieces are reserved for friends and family, certain luxuries make cooking at home a joy.
The perfect home kitchen combines real functionality with beauty, and sacrifices neither for the other. From corian and quartz countertops to inset refrigerators that take up no extra space, features in a home chef's kitchen need to be smart.

Check out these seven luxury kitchens. They may give you the inspiration you need to design your own.
Double Wall Ovens are Making A Comeback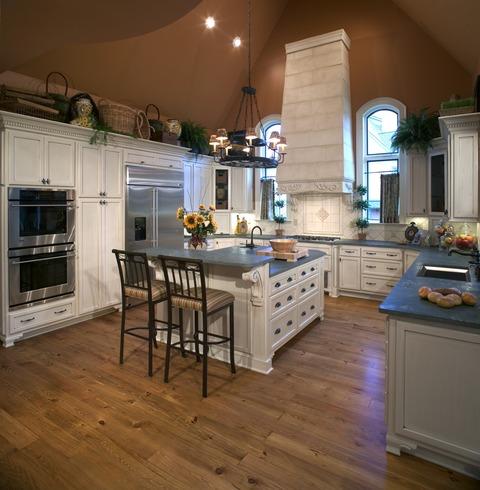 This kitchen marries the convenience of two separate wall ovens, which were quite popular in the 60s and 70s, with the sleek, modern look of stainless steel. It's not overkill for a busy cook. There is plenty of space to bake or roast the whole meal at once.

The towering range hood is another special feature in this kitchen. Some are made of stacked stone, others of cast stone and most are custom designed to fit the dimensions of the room. If it looks like it was specifically designed for this kitchen, the contractor did their job (it was).
Stainless Steel is Becoming A Classic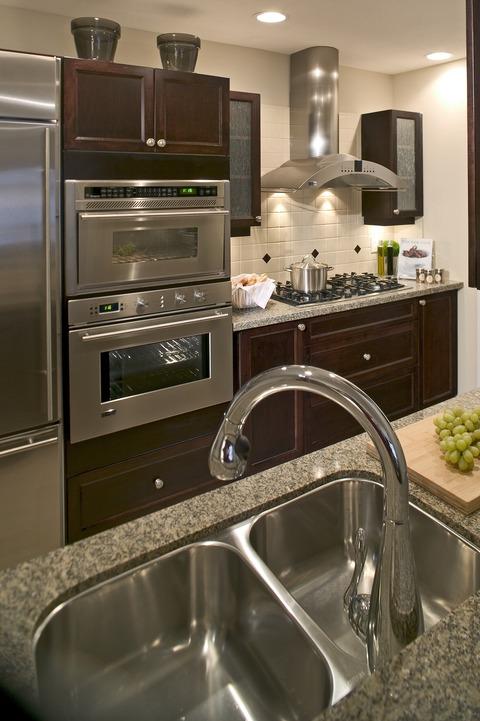 At one time, stainless steel seemed too industrial for residential use, but today, modern stainless appliances and fixtures are sought after for many reasons. They clean up beautifully, resist scratches and make this whole kitchen gleam.
Stainless sinks went through a period of falling out, but they fit in a room filled with stainless. A gooseneck arch and touch-control water makes a faucet like this one as convenient as it is beautiful.
More Chefs Choose Gas Stoves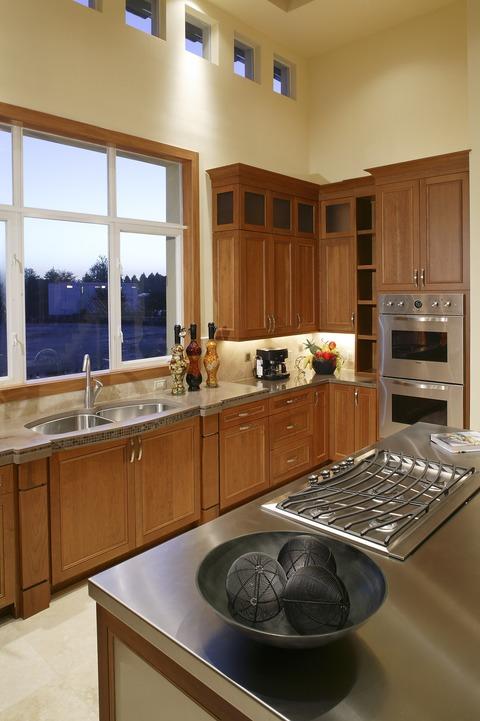 Gas is the professional chef's choice, according to the Propane Education and Research Council. This range has five burners and a contiguous grate system, instead of individual grates, which hold any size pot. Stainless countertop surfaces alongside the range are smart, too.
Inlaid mosaic tiles add color and sparkle to the sink counter top, but in an area where they won't take abuse. The double sink makes it easier to keep the countertop clean. Crumbs won't get trapped around the edge of the sink.
Not Your Mother's Kitchen Storage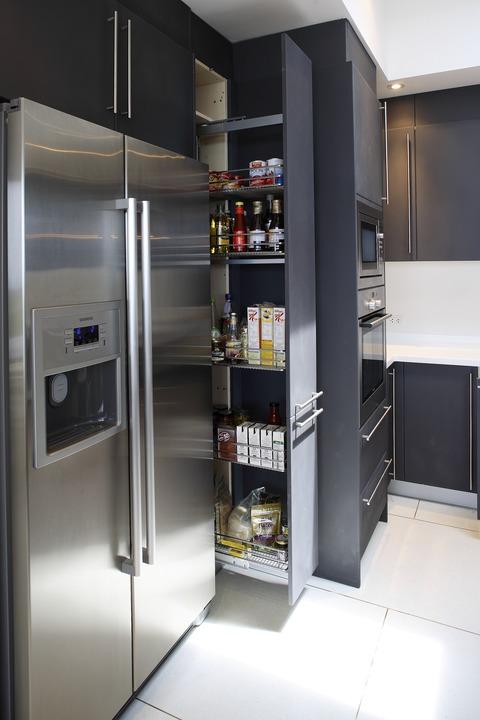 All kitchens have drawers and cupboards, but this one is really clever. Tall, vertical and niche drawers store the same amount of food as more traditional cupboards, but the design brings everything into easy reach. The profile is slim, so it takes up very little space along the wall.

A smaller version for base cabinets helps spices take up less room than a traditional spice cabinet. And the sliding design means you won't knock over the vanilla extract to reach the oregano.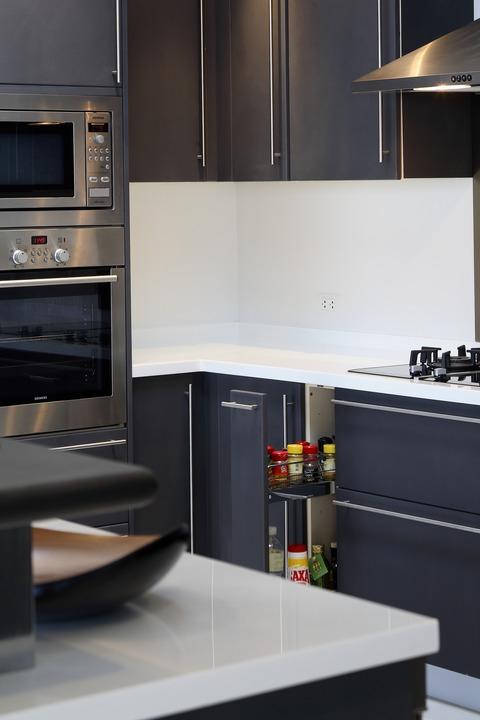 Beauty Blends with Function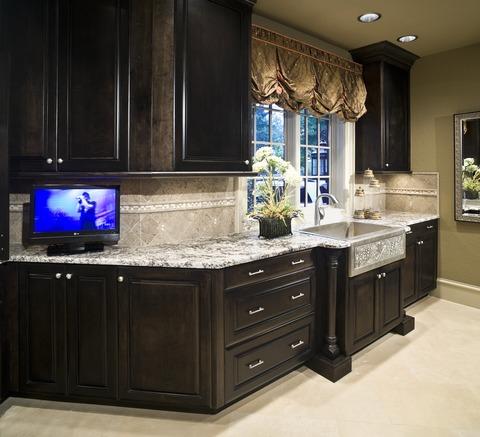 This kitchen isn't just a pretty face. The custom cabinetry is as fine as the furniture. While countertops may resemble calacatta marble, they're actually granite.
Marble countertops etch, stain and develop a patina over time. Granite gives a similar look, but with a tougher-wearing surface. It's resistant to heat from pans, acid from food, wine stains and scratches.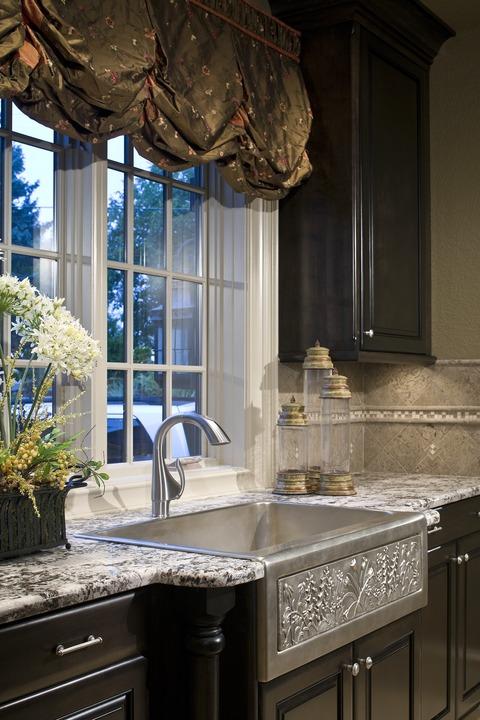 The apron sink is the real stunner, though. Its stainless steel bowl is deep and easy to clean, while the embossed, satin nickel apron front is practically art.
Who Says Chefs Only Cook Indoors?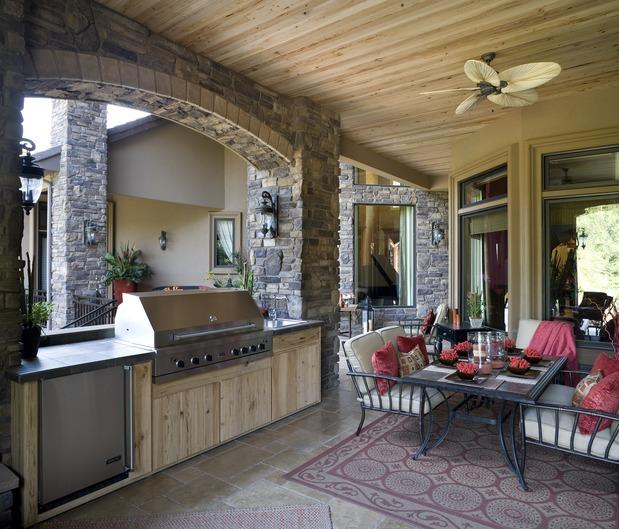 Cooking outdoors has evolved from the occasional, casual BBQ to a warm-weather way of life. Custom outdoor kitchens are often as function and beautful as their indoor counterparts, with grilling as a bonus.

Many home chefs love to have friends and family gather around while meals are prepared; a kitchen like this encourages it!
Extras Make Any Kitchen Special
A built-in coffee bar makes Starbucks passé.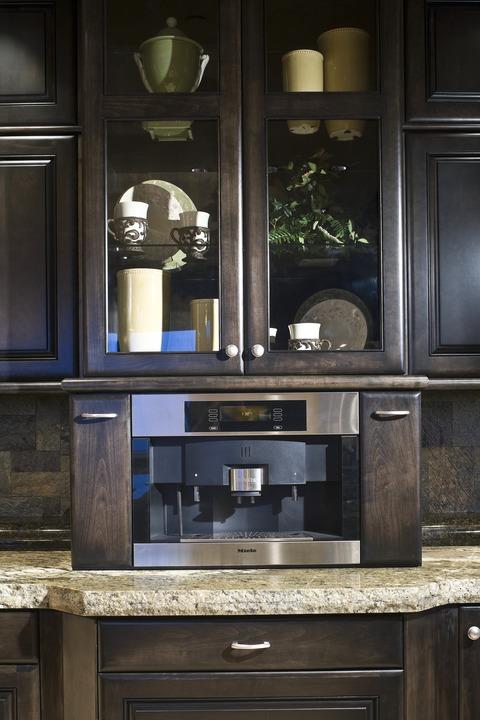 A wine chiller puts chardonnay at your fingertips.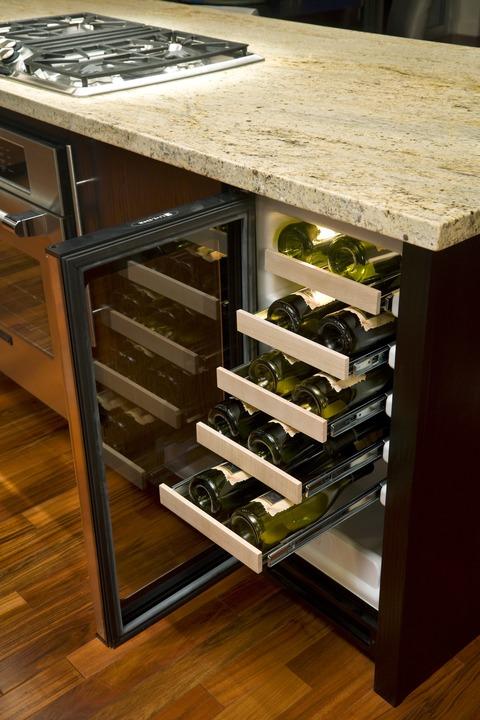 A luxury home kitchen begins with inspiration. You don't have to duplicate someone else's kitchen and you probably wouldn't want to. But each one has something special to offer for your own kitchen remodel.

What is it that excites you about cooking at home? That's the spark to trigger your own imagination. With the right professional, you can make it a reality. Before hiring a pro for your kitchen remodel, be sure to request free estimates from local companies.